Update 30 Sep 14: Winners list here
This is the 16th year of the annual IIA Dot ie Net Visionary Awards. The award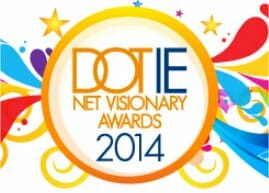 ceremony will be held on Friday 26 September in the Smock Alley Banquet Hall, Dublin. The Net Visionary Awards are free to enter and nominations are now open and close on 9th July.
Out of the 15 categories, only 5 will be open to public vote. The remainder will be judged by the panel.
Here is a selection of the categories:
Rising Star Start up of the year
Best Scaling "new heights and territories" international internet business
Best Mobile Service or App for Fast Moving Businesses (B2B)
The Most Indispensable Cloud Service for SMEs
Very Best Place to be – Accelerator | Incubator | Space
More information on the Net Visionary Awards at www.netvisionary.ie
Nominate yourself (or somebody else) here. (Nominations now closed)
The shortlist will be live on the Net Visionary Awards website on Monday 28th July. Voting closes on 31 July for the 5 categories open to public vote.
Winners list here
Follow Aisling Foley Marketing on Twitter for more tips or subscribe to my newsletter in the "Subscribe" box below. You can also connect with me on Google Plus.