Dublin, 19 October 2009:  Aisling Foley Marketing is organising a Saturday Night Fever disco to raise money for the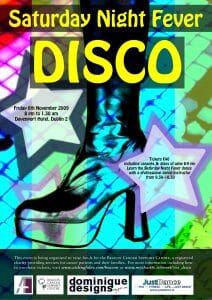 Beacon Cancer Support Centre.
"Saturday Night Fever disco" will be held in the Davenport Hotel on Friday 6th November from 8pm til 1.30am.  The disco will cover all aspects of music from the 70s to 90s paying particular attention to the disco era!
Tickets are €40 and include canapés and a glass of wine served from 8 to 9 pm.
From 9.30 to 10.30 pm you can learn the famous Saturday Night Fever dance routine. A dance instructor will guide you through all the funky moves!
The Beacon Cancer Support Centre is a registered charity and raises funds to provide a support service for patients and their families while they are undergoing treatment for cancer. This service is situated at the Beacon Cancer Support Centre, Beacon Consultants Clinic, Beacon Hospital, Sandyford, Dublin 18. The services provided include:
Aromatherapy
Reflexology
Lymphedema drainage
Counselling
Dietician
Amatsu
"I organised this event because my sister is using the services.  She says that the clinic is fantastic and is a massive help to her in coping with the disease," Aisling Foley said. "Because it helps my sister so much, it has a huge positive effect on our family so we all cope much better. I'm happy to be able to do something as thanks but mainly to ensure that the centre continues to help other patients and families for free."
Dr David Fennelly, Director at the Cancer Support Centre says: "We are very grateful to everybody who helps raise the awareness of our clinic. I am particularly grateful to the Foley family and others, including the therapists who work here, who help raise money to keep this centre going."
Editors note: Unfortunately the centre closed down in 2011 due to lack of funding. Irish Cancer Society website has more information on cancer support.