I have had the computer week from hell. Last Sunday as I sat down to back up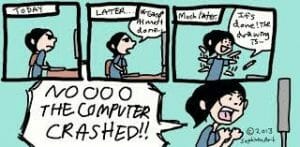 my life, I had a hard drive crash. Kaput. Gone forever, not an ounce of life left.  As it happened, that laptop was being replaced because of a fault (unrelated to the hard drive I'm fairly sure), so I had a replacement laptop. This was good, except that the replacement didn't have a disc drive and I needed that to install Windows 8. Anyway, I got around that with the help of my very old and bockety laptop, and on Monday after the help desk gave me the bad news, I started work on sorting out the new laptop.
I do back up my files – weekly on a Monday. The crash of course happened on Sunday. So I lost a week of work and also a month of Outlook.
So I spent most of Monday and Tuesday getting things back to normal (and you know how time consuming that is with a new computer) and was back working on Wednesday with my nice new laptop.  Then on Wednesday evening as I was upgrading to Windows 8.1 (I had done this on the previous laptop without any issue a few months ago and I do like Windows 8), the new laptop crashed. This time the hardware was still alive.
Most of my files this time were ok as I was getting a bit paranoid as you can imagine, but the file I was working on was one of those that had to be requested from somebody as I didn't have a copy from crash #1. And that was gone again too. (My humble apologies once again – you know who you are.)
So my brand new, straight out of the box, laptop spent Thursday at the doctor and I thanked God for my external hard drive. I am now almost back to normal again.
Lessons learned
So what did I learn? Well I think you can guess. BACK UP your files DAILY. And don't forget Outlook. And one of the things that saved me in crash #1 is that I had File History turned on. That is a brilliant program. But now I have that set to daily also. So make sure you set it up and make sure you have a huge external hard drive. I was also fortunate that I bought a 2 TB one a few months ago.
It could have been worse, but it still wasn't great.