Twitter for tech companies: Lesson 6: Twitter Lists
Twitter lists are fantastic. They've been around since 2009 and enable you to group together those you are following into market sectors. This helps you get more use of out Twitter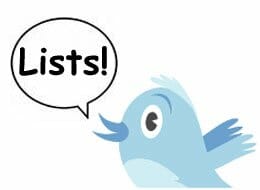 by having an overview of what each market segment is up to. Lists are particularly important when using Twitter management apps. Lesson 7 is about using Hootsuite.
Lists can be private or public and if public, others can subscribe. Enterprise Ireland, for example has an excellent public list showing tweets from EI clients. https://twitter.com/entirl/lists/clients
It's important to create meaningful lists for your company. Here are some examples that might be useful to Irish software companies:
Target market sector – eg public sector, IT, retail
Marketing – for industry journalists, publications, analysts
Competitors (yes, it is ok to follow them)
Customers by country might make sense in your organisation
Segment by groups within sectors. For example the aviation sector can be further split into airlines, avionics manufacturers, MRO, ANSP etc
You can even see who has added you to their public lists by going to the list page (click on the drop down menu under the cog) and click on "Members of".
Here's Twitter's support page about Twitter lists
Note of caution. When creating lists, be sure to mark it private (default is public) if you don't want others to see or subscribe to the list.
Read more Twitter for tech companies posts
Lesson 1: 6 tips on who to follow on Twitter
Lesson 2: Which Twitter strategy should you chose?
Lesson 3: 12 Twitter tips for beginners
Lesson 4: Who to follow on Twitter
Lesson 5: 10 things you should do on Twitter but probably don't
Lesson 6: Twitter lists
Lesson 7: Using Hootsuite
Lesson 8: Twitter mistakes to avoid
Follow Aisling Foley Marketing on Twitter for more tips or subscribe to my newsletter below.