The ABC marketing guide to MWC.
It might be next year, but it's only 3 months away and we all know that December can be a bit of a write off. If you haven't already started working on your marketing collateral for Mobile World Congress 2014 (or MWC14), it's time you did.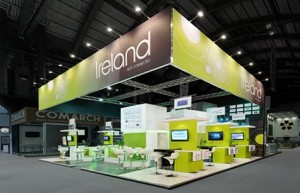 Each year Enterprise Ireland takes a pavilion which it offers to its clients. This makes it much easier for the large number of Irish mobile software companies to make a big impact on this important exhibition without enormous cost.
MWC14 is on from 24 to 27 February in Barcelona. Here's the ABC marketing guide to Mobile World Congress 14 whether you are participating in the EI stand or on your own:
Analysts: Do you know who your key analysts are? Gartner, Forrester, Berg Insight, ABI Research all attend this event and it is a fantastic opportunity to get in front of them
Brochures: Product sheets, company overview, datasheets
Case studies: These  provide real life examples of how your solution can benefit mobile operators and are perfect for events
Demos: Have you got a product demo ready? Are your exhibition staff trained on how to use it?
Email marketing: You need to let your customers, prospects and partners know you are going to be there – and arrange to meet them
Follow up: How will you follow up on the leads and who is going to do that?
Giveaways: Everybody expects freebies and it's a great opportunity to have your brand in front of your prospects long after February.  Have you got something that will actually stay within view of your prospect and not given to their children for them to placed far away from where they need to be?
Lead capture: How are you planning on capturing attendees' details so that you can follow up after the event?
People: Who's attending and where are they going to sleep? Most hotels are probably already full. The Aer Lingus flights at date of posting were at around €150 but they go up to €400 so you need to decide who is going and book now to keep costs down
PR : Are you planning on making any press announcements at the event? All of the big companies will be, so anything but major news may be drowned out, but it's still worth it as you can circulate these releases yourselves directly
Presentation: What are you going to talk about with your visitors? What will the large screen provided by EI display? This is essential in order to catch the eye of the passers by. What imagery will you use in the presentation and for the stand?
Reception: Who should you invite to the EI organised Guinness reception?
Social media: You should be tweeting and blogging about this event before, during and after
Website: Is your website up to date? Does it need new content or even an entire makeover?
These are just some of the key aspects to running a marketing campaign around MWC14.  I have worked with a number of clients on Mobile World Congress and even attended the event on their behalf.
I can be part of your team for MWC14.  Contact me for a quote.
Follow Aisling Foley Marketing on Twitter for more tips or subscribe to my newsletter in the "Subscribe" box below. You can also connect with Aisling on Google Plus.