I received an excellent email from Twitter this morning with a link to the Twitter Small Business Guide (UK).  It says a lot of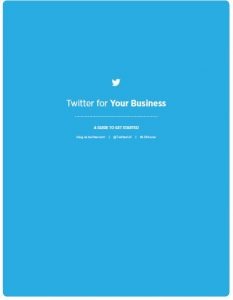 things that I have been saying in my Twitter for Irish Software companies lessons and backs it up with facts and figures.
It starts at the very beginning and explains what exactly a tweet is as well as how to set up a Twitter account.  I particularly like the "Week on Twitter".  This is aimed at restaurants and shops but can be tweaked for Irish software companies.
Download the Twitter for small business PDF here. Twitter_Small Business_Guide_UK
Follow Aisling Foley Marketing on Twitter for more tips or subscribe to my newsletter in the "Subscribe" box below. You can also connect with Aisling on Google Plus.