A social media policy outlines how your organisation and staff should conduct themselves online. It ensures that everybody, in particular those who manage social media, know how the company wishes to portray itself across social media and post appropriately.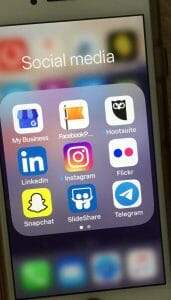 Having a policy in place helps protect your brand's reputation and creates consistency across all channels. It also provides guidelines to empower employees to share company messaging. (Related post "Employee advocacy and how to get your employees to share the love").
So what should you include in a social media policy?
Hootsuite suggests (and I agree) that you have two sections – one for those managing social media and one for all employees so that they know how to share your company's posts.
Here's what to include in a social media policy for the marketing team.
Etiquette/brand guidelines. Ensure that it is clear how to behave and the type of language to be used (no swearing, not too familiar, jokey, very familiar etc)
Content: The type of content to be shared paying attention to copyright – crediting the source helps overcome this
Images: Be particularly careful with copyright on images
What happens if it goes wrong? State the ramifications if the policy is not adhered to and how to publicly respond
Clearly define roles and responsibilities so that everybody knows what they and the rest of the team have to do
Security of the account login and password details and how to avoid phishing and other cyber attacks
Confidentiality: Define corporate information which should not be shared on social media
Related post: What to include in a social media plan
Social media policy examples
Here's HP's Blogging code of conduct. Page 18 of BT's ethics code briefly describes the overall company policy. Oracle's employee code of conduct (page 46) describes Oracle's social media policy.
To summarise
Keep the policy short (just a couple of pages) and simple because nobody is going to read a 20 page document. You will also need to review it regularly as social media is constantly evolving.
A policy of course doesn't cover every eventuality. Accidents will happen. In 2011, an employee of the American Red Cross accidentally tweeted about beer thinking it was his own account. But the organisation managed it well.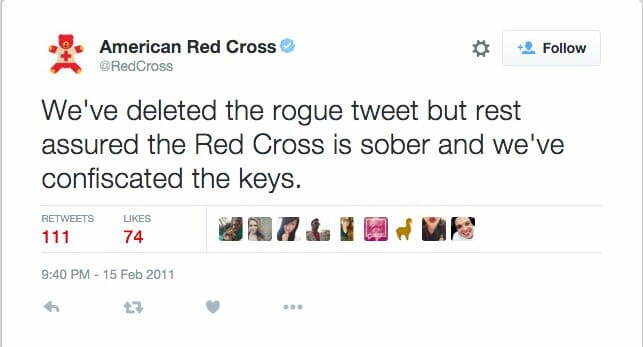 Read the Hootsuite article for more detailed information on what to include in a social media policy.